Cisco Telepresence Room
The Cisco TelePresence Videoconferencing is the innovative communications technology that allows the negotiators in different parts of the world in a real-time remote to hold a meeting with the virtual presence effect. This innovative technology blurs out the distance boundaries between people and their locations and creates the negotiators' presence sensation from around the world in the room.
The Cisco TelePresence Meeting Videoconferencing is the first system solution for meetings to combine natural size and high image quality, surround sound and specially optimized meeting room equipment.
Cisco Telepresence studio in Kiev avialable.

Capacity: Up to 18 persons

Price: $600 per one hour

Also we can advice you same quality studios all over the world so you can invite your partners and enjoy an unsurpassed effect of telepresence.
The Cisco TelePresence CTS-3210 the Presence Effect Videoconference is the largest meetings system in the TelePresence series. It consists of a large conference room with 18 active negotiation participants capacity on one virtual hand.

Technical Equipment
The Cisco TelePresence CTS-3210 includes:
65-inch plasma three displays

High resolution 1080p cluster Camcorder

Broadband microphones and speakers

Cisco Unified Phone 7975G

Collaboration Means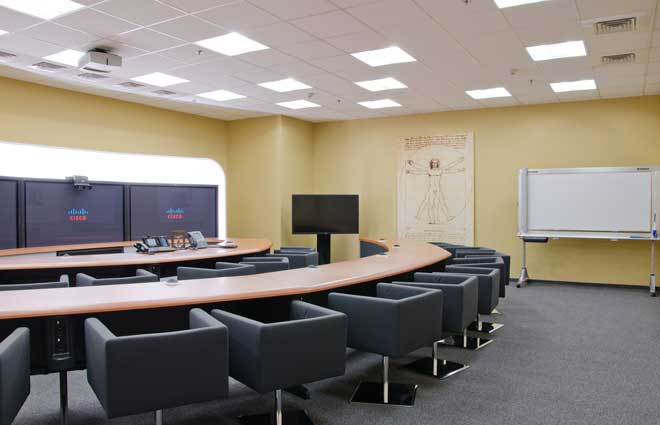 Components of The Cisco TelePresence Components
Latest standards and technologies have been applied, including:
High-definition video cameras and encode / decode algorithms corresponding

Broadband low delay sound coding algorithms improved

Multi-channel surround sound echo suppression system with noise filters to eliminate mobile devices feedback

Optimized adaptable environmental functions to ensure the best audio and video possible quality to improve the overall user's system experience

Complete multimedia data coding and alarm Cisco TelePresence calls, with negligible delay for 48 segments maximum

High-resolution video for the presence effect

Videoconferencing based H.323 systems compatible, with standard and other - (HD) high-definition ultimate devices
The CiscoTelePresence Video system
Cameras
Natural 1080p resolution

The small size

Produced and managed by Cisco CTS codec
Screens
65" plasma

Natural 1080p resolution

The natural size of the image - two people on one screen

Produced and managed by Cisco CTS codec
Video Processing
The Cisco TelePresence codec uses 1080p / 30:
1920 vertical lines extension(16: 9)

1080 horizontal lines extention

1,5 GBit uncompressed
The Cisco TelePresence codec uses 5.3 Mbps for a 1080p screen, thus is 99% compressed.
The CiscoTelePresence Audio system
Microphones
A separate microphone for each table Cegment

Multi-channel surround echo cancellation audio

Audio Codec AAC-LD

The codec G.711 for joined-conferences

4 audio channels per system

Filtration cell phone signals
Loud Speakers
For high quality human speech playback especially designed. Placed under each 65 "plasma to create a feeling of the sound coming from the speaker (surround sound).
The CiscoTelePresence user's interface
Cisco Unified Phone 7975G

Touch screen display to codec controlling

Capabilities
Manual calls

System numbers for speed dial (such as those containing the other rooms numbers)

For scheduled meetings, the "One click" regime support to start the meeting

Conferences / connection (Join) is used to add the audio TelePresence Meeting participants
The CiscoTelePresence MeansCollaboration
Document-camera WolfVision VZ-C12 (CTS-3000)

HD projector NEC LCD4010BK (40-inch), in a recess under the table with LCD display installed

The video cable and the lap-top book wire to connect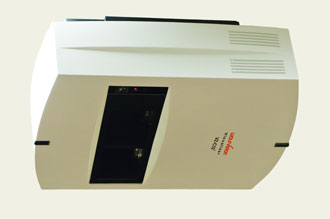 The Document-camera - a modern presentation tool, displays the object images too valuable for transportation or for those that can not be copied or sent by e-mail. Cisco recommends to use document camera WolfVision producted. Objects of any type (eg, books, photographs, 3-D images, etc.) may be reproduced BY document camera quickly and simply, in addition, the camera supports high definition output for video and information projects, displays, interactive digital boards and videoconferencing systems.